Gin tonic is without a doubt one of my favourite cocktails. As simple it is to prepare it yet it has to be done just right. Complementary ingredients such as lime, satsuma or cucumber all adds a different twist. The ultimate outcome however relies heavily on the brand of gin that has been used and of course the experience itself.
There is also a spiritual side on how to enjoy this lovely drink. The perfect time for a well deserved gin tonic for me is always just before sunset. Evening, especially in summer time is just the right time to have this tranquil "me" time. And the settings that would help foster that feeling are vital; for instance; whilst enjoying a breathtaking scenery or maybe while chilling out under the shadow of pine trees where a soft afternoon light touches your face, or while having a tranquil moment on the deck of a yacht where you feel a light breeze on your cheek. I am sure you all have your own favourite settings to add up to this list but there is one thing that  remains the same in all those settings. It is the notion that Gin Tonic is a drink of appreciation.
And this is why it is one of those nobel drinks that could well enjoyed alone as well as with friends. Since the term "appreciation" is the key here;  there must be a shared enthusiasm if it is to be consumed jointly. Therefore, I do not think it is the proper drink for networking occasions or business meetings. And I totally neglect the idea that it can be used as a party boozer because when the motivation for drinking gets equal to getting drunk, as opposed to many things that I mentioned above, that for me loses its reason. And yes, you could possibly get drunk once in a while but it should only be the outcome rather than the mission and of course I would suggest drinking it responsibly.
My motivation to write an article about gin tonic suddenly urged after my early september Madrid trip. I was quite impressed to see how popular this drink was in Madrid bars and clubs and in general how it is embraced by Madrilenians. But before going into detail about that experience first I would like to mention the slight disappointment I felt after I moved to London.
After a couple of enthusiastic moves around the town to find the perfect Gin & Tonic spot, I come to the realisation that Gin and Tonic in its homeland Britain is by no means "the real deal". Well, I could be wrong with my small sample size but as far as my observation is concerned It simply does not have the cultural common ground of Pimm's or an Ale or even a Lager. if we are speaking about the Scottish land by no means it is an alternative to whisky. If this statement is true then why is that ? My only hypothesis would be to suggest that the weather equation has to do something with that.
No offence to anyone but yes, I admit, for me Gin Tonic should always has summery elements. Not suggesting it has to be consumed solely on summer but even in winter time the "appreciation" bit has to do something with summer.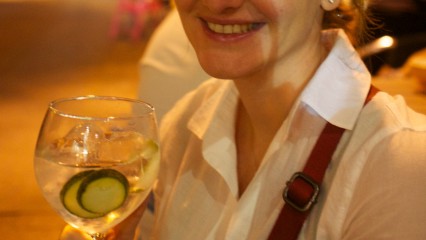 Coming back to Madrid experience.. From a very primitive Tabernas to a fancy rooftop hotel bar, in every where you go you would see how special emphasis is given to Gin Tonica. Bar tenders no matter where you go are extremely knowledgeable about gin brands and they know how to make a proper gin tonic. "Hendrick's should only go with cucumber and Tanqueray Ten tastes better with satsuma" said one of the bar tenders. But the biggest thing that puts Madrid's stamp on Gin Tonic is the unique glass they use for this drink. A big balloon glass. After all this is a drink that has many delicate notes of botanicals. So why pay less attention to the aromas that open up beautifully than you would do for a glass of wine really. I really think this particular glass should be the worldwide standard for this drink. And as far as the glass discussion goes; I could live with a lowball glass but I would rather not drink it rather than having it on a highball glass.
Another nice gesture is when you order a Gin Tonic, especially if you happen to be in a stylish place, they would always bring the bottle of your Gin choice, Tonic Water and the glass full of ice and all ingredients in a serving plate and make the final mix just before your eyes. What a lovely routine. This routine subtly conveys the message that this is a serious drink which needs respect and hence the drinker himself/herself deserves such ceremony. Awesome !!
Serious drinks require routines taken seriously. In the case of Gin Tonic, Madrilenians seems to unleash the true potential of this unique spirit with their own touch and culture. Quite impressed !!
Places I enjoyed Gin Tonic in Madrid:
La Terraza Del Hotel Urban: A very stylish and upmarket boutique hotel at the heart of the city.
This small cafe-bar which also has outside space in this lively street. 
Azotea at the terrace of Círculo de Bellas Artes: Amazing view and very good food as well.
My local favourite for excellent gin tonic experience (Bodrum/Turkey):
Limon Cafe Gumusluk: It has the real wow factor because of its simplistic setting and the spectacular sunset view.