For this Rome trip I had in my mind to have a proper find dining. There were plenty of choices but an Italian friend of my wife recommended us La Mantia so that we made the reservation. In the hotel room I saw the Chef on the cover of a magazine. I said to my self we should have done a good decision.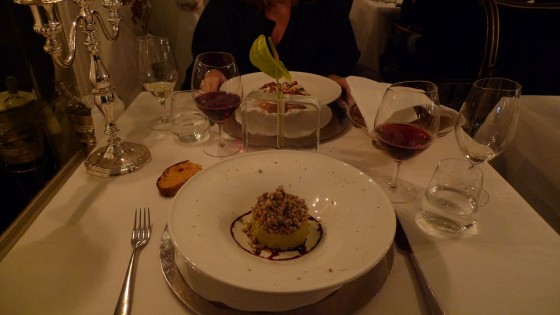 The ambiance of the restaurant is quite impressive. It gives you an aristocratic feel. The main hall with high ceilings and whitish décor is very pleasing. Passing through this entrance we were seated to our table and ordered some champagne. While enjoying our drinks we had a quick people watching observation
Some facts from that night: The crowd was consisted of mainly couples enjoying a fancy night
out and parties with a group of friends. It seemed to me to have a good feast was everyone's priority. Being aware of this fact probably, the chef started to visit the tables. In some tables he spent more than 2-3 minutes carefully presenting his suggestions. It amazed me how people take this so seriously, in a positive way of course.
The food is heavily inspired by Sicilian cuisine. There were many interesting choices to go for. Our starter was very tasty but unfortunately I forget its name. My motivation for the main course was to go for the seafood but changed my mind and decided to go with fillet. My wife ordered Risotto. The food was well presented and delicious. It deserves its price tag, which is fairly reasonable speaking of fine dining standards. However I cannot rate the total experience to be sensational. For some reason it was not quite there. A fairly expensive Sicilian Wine accompanied our meal and it was quite nice. Overall it was a pleasing experience. At the end of the night I was glad we picked here.