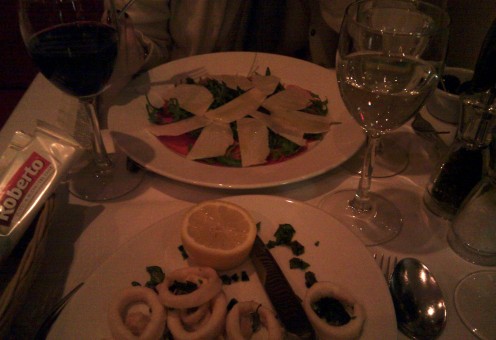 Ziani's is really the type of Italian I was looking for. I mean I love Italian food but sometimes it all makes more sense when the friendliness of the staff, the intimate feel you get, completes a very good meal as an experience. The décor is not flashy but it gives you this friendly atmosphere with a proper upscale dining setting.
Coming to the food, our first starter the fried calamari was surely good but it was the Steak Carpaccio, which was the real winner. The pasta we get afterwards was again flawless. It was a very pleasing meal altogether. Our wine choice Montepulciano d'Abruzzo, was quite remarkable when compared to it's wallet friendly price tag. The consistent value for money of Montepulciano wines I tried recently is another note to make.
I really enjoyed my time in Ziani's and I highly recommend this local Italian in Chelsea, especially if what you are after is a friendly atmosphere and a decent food.