Ischgl was the destination we picked for our ski holiday this winter. The primary reason for it was the very positive reviews about the ski area. Its famous après ski places and its high altitude geographical setting were among the other important reasons for our decision.
To tell the truth, I have couple of favorite resorts that I really want to revisit, but also I cannot resist the idea of exploring new resorts. Ischgl was one of those resorts I thought I should have seen. Therefore, my expectations were a bit high.
To start with, I am impressed with the ischgl.com website. The website includes all the information necessary for visitors. It also includes a wide network of hotels and motels in its database. The site makes it very convenient to search for a hotel. This centralized approach also gives a professional look and an upscale image to the resort itself.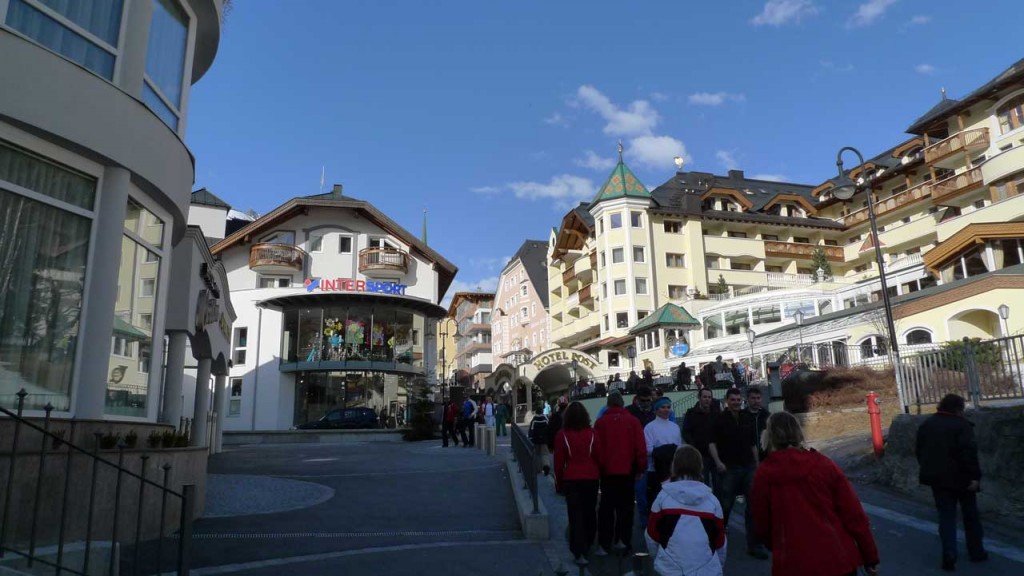 The trip: We reached ischgl after a three-hour car trip from Munich airport. It is about 300 km and it takes about 3 hours in a clear weather. The vast majority of the road is highway. Only the last half hour of the journey, say 40 km's is through locale roads. According to the reviews this part may require extra precaution if the weather conditions are bad, but at the time we passed through it was like autumn already came to the Alps.
The Hotel: We picked our hotel Goldener Adler after a careful search. I am always reluctant to stay at hotels that are occupied by big tour operators. Especially if I make the arrangements myself, I try to avoid that. I prefer a more friendly, home like stay. Goldener Adler fits this description extremely well. You can read my extensive review about the hotel through this link.
The Ski Area: The Silvretta ski area, which includes Ischgl and Switzerland's Samnaun, is one of the best I have experienced. It offers extensive routes and slopes and the modern infrastructure is impressive. The three gondolas that take you to the slopes from the Ischgl village are all fast, modern and efficient. The majority of the restaurants at slopes are also nice and up to date. Especially the Pardorama Restaurant is very impressive. The one major advantage of Ischgl ski area is all the slopes are accessible through one center. That is to say you don't need to take bus or walk through meters to reach for other slopes. This is really convenient. If you are skiing late winter with sun deteriorating the snow quality what I recommend you is to get up early and ski early morning at the slopes of Ischgl, and in the mid day shift to the Samnaun. For snowboarders a decent fun park area includes lots of jumps and tricks available for your taste.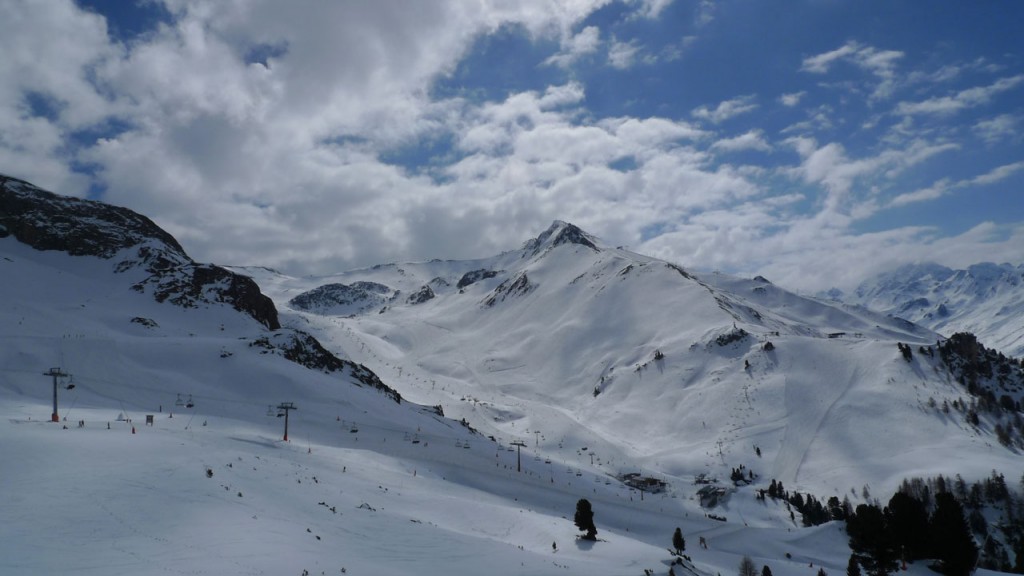 The Village: There is this one condition that gives a ski resort an unmistakable advantage. It is this beautiful fresh snow that turns the village into total white. Upon arrival, when I see a scenery like this a feel of absolute peace surrounds my soul. Complementing the scenery, powder shaped roofs of the buildings, the colorful display of the shops, the reflection of street lamps in snow and the people walking on those narrow roads welcomes a happy mood. Apparently this portrait was lacking this time… Therefore mood got a bit down at first sight. However, this is something related with timing. When it doesn't snow, it is nobody's fault.
The downtown Ischgl is a nice and small typical Tyrolean village. I always favor compact, village type resorts more so it matched well to my preference. The après ski experience near the Silvretta Cable station is impressive. However be aware that wild après ski can sometimes cause plenty of drunk and rude people shouting and passing through streets. For the nightlife, there are plenty of places for entertainment in Ischgl. Within those the one I like most is this Bar-Pub called Golden Eagle that offers extensive list of beers and whiskeys from around the world. The genre of music is rock. The décor is fun and gives the place a unique atmosphere.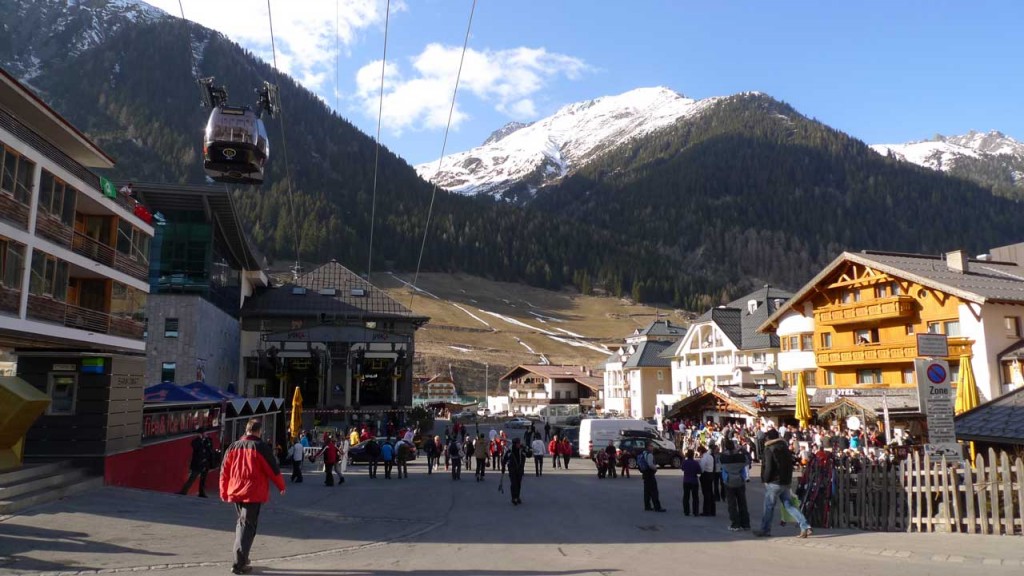 One interesting fact I have noticed from the reviews and agreed more upon arriving is that Ischgl is highly dominated by German tourists. Although speaking English did not cause any problem in any of the shops or restaurants we have been, this lack of diversity somehow has an impact on the overall atmosphere. A more cosmopolitan feel might foster the dynamism if you ask me. For instance the mood that Brits bring add liveliness for St. Anton, the nearby Austrian resort. Having said that, this is a matter of preference obviously. Each resort has its own character, and so what I am mentioning here is neither a positive nor a negative fact.
In short, Ischgl is probably one of the best choices to ski in Austria. It is located on a high altitude mountain zone, has vast amount of ski runs, a modern lift system and a famous après ski.
To see all our ski center reviews on google maps please click here